"To Where You Are"

Who can say for certain
Maybe you're still here
I feel you all around me
Your memories so clear
Deep in the stillness
I can hear you speak
You're still an inspiration
Can it be
That you are mine
Forever love
And you are watching over me
from up above
Fly me up to where you are
Beyond the distant star
I wish upon tonight
To see you smile
If only for awhile
to know you're there
A breath away's not far
To where you are
Are you gently sleeping
Here inside my dream
And isn't faith believing
All power can't be seen
As my heart holds you
Just one beat away
I cherish all you
gave me everyday
'Cause you are mine
Forever love
Watching me from up above
And I believe
That angels breathe
And that love will live
on and never leave
Fly me up
To where you are
Beyond the distant star
I wish upon tonight
To see you smile
If only for awhile
To know you're there
A breath away's not far
To where you are
I know you're there
A breath away's not far
To where you are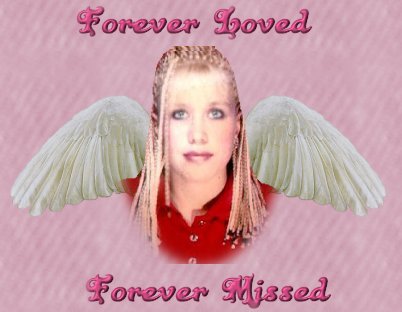 Shelly Denise was born in Kansas City, Missouri. Such a wonderful precious beautiful baby. We instantly fell in love with her. She was our world. Shelly was very smart. She learned very quickly. Most years were straight A's in school. A beautiful smile would be on her face from her early childhood until her death.
Sports were an activity of hers...volleyball, basketball, dancing baseball and ice skating. Also, in the marching band. One fall day Shelly marched in the American Royal Parade. As her years went by she was a teenager. Her hormones started taking over. Shelly and a friend decided to run away one day and they did. Shelly was so trusting. She had no healthy fear. She ended up getting raped by an older man. He took advantage of our daughter at the age of 14.
From then on Shelly was taken care of by Dr. Sharon Lee. Dr. Lee took care of our Shelly like a daughter and truly loved her. We will be forever gratelfull to her. Dr. Lee is such a wonderful loving, caring person full of hope and love for all of her patients. Dr. Lee took care of Shelly for 14 years with no kind of payment at all. Dr. Lee never refused Shelly medical care. She was always there to help Shelly. Dr. Lee pulled Shelly through many bouts of sickness and got her back on her feet. She never gave up on her, even when Shelly
did not take her meds.
Dr. Lee was there and hugged me, held me and cried with me when Shelly was taken to ICU the day that she died. Dr. Lee whispered something in Shelly's ear and then left and shortly after that Shelly died. Shelly's dad and I were holding her hand when they came in and told us she was gone. Tonia and Micki from Dr. Lee's office stayed in the ICU room with us for about four hours till Shelly was gone.
Shelly has a brother named Rick Jr. and a sister named Kristen. They too, were there for Shelly many times and love her so very much. Shelly made an impression on many lives while she was here. She loved doing things with children. She would make crafts with her brother and sister and play school. They had many fun times together. Shelly participated in the Kansas City Aids Walks for a few years while she could. Our family and some of Shelly's friends and our niece, Amy also were supportive and joined in the walks.
We, as a family, continue in benefits and causes to help support people with HIV/AIDS, in Shelly's memory. This keeps her life, her love, her purpose, her memory alive. No one deserves this disease and no one should have to ever feel shame for having it. It does not make you BAD if you have it. People are too judgmental. Everyone is at risk to contract it, no matter who you are, where you are, or what economic group you are in. HIV/AIDS strikes all classes, races and ages of people in the whole wide world. It is scary. Just remember...................
Every person who has been infected with the HIV/AIDS virus is Someone's precious child, beloved sister or brother grandparent or grandchild, best friend or valued co-worker.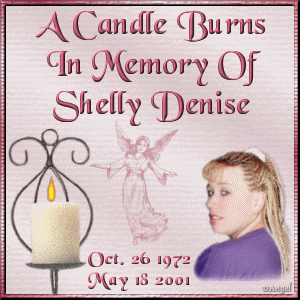 Filling our Hearts
With Delight




Angel Image
© Jonathan Earl Bowser

******

Made With Love
By:
~AngelDesigns~